Step 2--Sand the bottom side
***See Edit***
I use 220 grit sandpaper on a rubber sanding block, and I like to make uniform diagonal passes. This is going to help add a little bit of a brushed look to the stain.
Sometimes if the MDF is real rough, I'll do the other diagonal (making a sort of cross-hatch pattern), but always finish with the same diagonal.
Also carefully sand the inside edges of all the cutouts and pass thrus. I wrap little piece of sand paper around my finger and just work these edges.

*** Edit ***
For a smoother finish, particularly for the under-layers of polyurethane, I tried (and had better success) with the following sanding technique:
Short strokes, in multiple directions.
I tried short light strokes in one diagonal, then in the other diagonal, then in small circles, and finally in large circles.
Step 3--Clean
Make sure to clean off the surface after sanding. I brush it, vacuum it, and then actually use a tack cloth.

Step 4--Apply pre-stain
Once again, MDF is very absorbent, so I feel like a pre-stain makes the stain come out much more uniform.
Let the pre-stain dry according to instructions.
Step 5--Apply the stain
I use a disposable foam brush and apply the stain.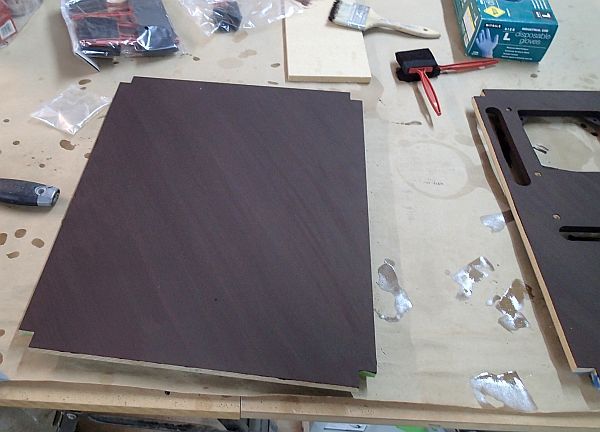 I am using a stain called Cordova from Sherwin Williams. It is a very nice deep woody red.
After it has dried several minutes, I run a standard brush very lightly across the surface at the usual diagonal. This is going to add a very faint brushed/wood grain texture.
Let the stain dry according to instructions.