Ok, I'm going to go ahead and take the financial hit and get the parts to replace my 939 system, but I just can't help that I'm replacing old parts with... well... old parts
Foxconn A78AX-S AM2+/AM2 AMD 770 ATX AMD Motherboard - Retail
G.SKILL 2GB (2 x 1GB) 240-Pin DDR2 SDRAM DDR2 800 (PC2 6400) Dual
AMD Athlon II X2 240 Regor 2.8GHz Socket AM3 65W Dual-Core Processor Model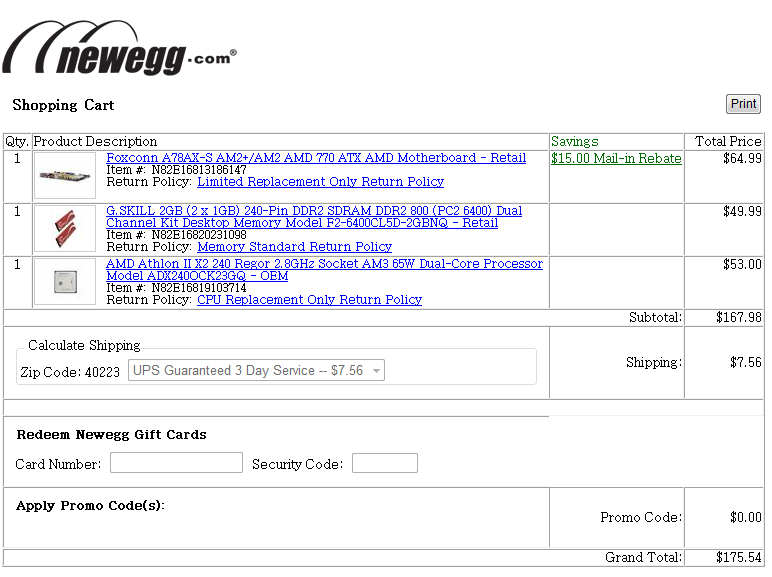 $175.54 after shipping, with a $15 mail-in.
I was trying to keep it under $150, even cheaper if possible.
any ideas?
I'll be pairing it with:
ATi HD2900XT
AverMedia TV Tuner (PCIe 1X)
Hauppauge PVR150 (PCI)
Wireless LAN Card (PCI)
and an ePower PUMA II, maybe an Earthwatts 500W depending on that 2900XT's power suck radius.
Basically, trying to create a low power, quite HTPC, at low cost, but with some extra horsey power for folding, and maybe future needs.
Looking for low budget suggestions.
I also have a member at the AMDSF offering me a Phenom 9850, 2x1GB KVR DDR2 533, and an ASUS M3A78T, comming in at 165, more than I want to spend, but very enticeing.
What I may do is nab the 9850 for $50, and the above, that puts me right at $150, but that ASUS is very enticeing....
thoughts? ideas? suggestions? pwease?